South Texas Radiology Imaging Centers is excited to offer Digital Breast Tomosynthesis (DBT), a new digital mammography technology commonly referred to as a 3D mammogram.
STRIC offers Digital Breast Tomosynthesis with C‐view, the latest in advancement in breast lesion detection. DBT imaging takes pictures of the breast in very thin slices which eliminates tissue overlap. These thin slices allow the radiologist to view a clearer image of the inner breast tissue, an important benefit for dense breast tissue.
C‐view is an advanced technology that creates an image that is beneficial for comparison to your prior mammogram. The C‐view image adds no radiation exposure to the low dose DBT exam.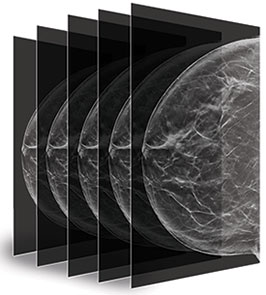 Digital Breast Tomosynthesis + C-View
C‐view is Advanced DBT Mammography Technology
C‐view eliminates the need for a separate 2D exam
C‐view results in lower dose than DBT with 2D traditional imaging
Improved comfort with automated self‐adjusting tilt compression
Offers potential improved lesion detection
Medicare approved
Features and Benefits
Subspecialized Board Certified Radiologists
DBT available at all Boutique Mammography Centers
Seven (7) convenient locations
Evening and Saturday hours available
Walk‐ins Welcome
Same day appointments available
Schedule an Appointment